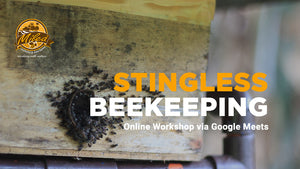 Stingless Beekeeping Online Workshop
Sale price Price ₱1,500.00 Regular price Unit price / per
Learn how to keep your own stingless bees! In Milea Bee Farm's online workshop, you can learn the ropes of meliponiculture from the comfort of your own home. Whether you're a newbie or a meliponiculture farmer, we will teach you new tips and tricks in stingless beekeeping.
Date:
 June 25, 2022 (Saturday)
Time:
9:00 AM - 3:00 PM
Platform:
Google Meets
In this one-day workshop, you will learn all about:
Stingless bee biology
Management of stingless bees
Stingless bee diseases
How to transfer bees to a new hive and how to split colonies
Harvest and post-harvest processing of honey, pollen and propolis
By the end of this course, you will be able to create a plan for your very own Stingless beekeeping project.
HOW TO SIGN UP
1. Place an order here on our site to receive our payment details.
2. Submit proof of payment for the workshop fee of ₱1,500.00
3. Check your inbox for email confirmation and your slot will be reserved!
Buy Stingless Bee
colonies at a discounted price
— only during the seminar!
NOTE:
Please be informed that the workshop will be conducted online. You will need stable internet connection to attend the workshop.